The James River is 560 km long and one of the 12th longest rivers in the United States that remains within the same state (source: wikipedia) and the centre piece to a design challenge at Collegiate School in Richmond Virginia.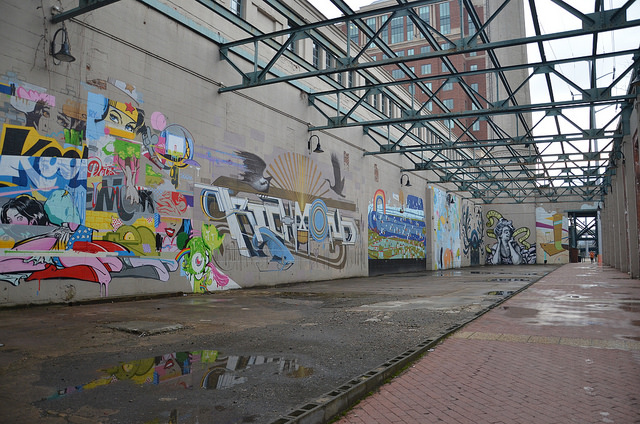 How might we connect with Richmonders to bring awareness to the James River?
This HMW question was the frame for a 1 week design challenge and I had the pleasure of being able to kick of the design thinking work with Collegiate. I travelled to Virginia for 2 intense days of design thinking following a half day Jane's Walk aka "Jenn's Walk" designed specifically for me by the Collegiate Students 🙂
Often, the question about design thinking is around what are the outcomes and what are the students really learning by being involved. Most evidently are the practical outcomes of producing a product and being able to present that idea that get assessed and evaluated, and then there is the process and perhaps more intangible outcomes. These are the outcomes that I took notice of.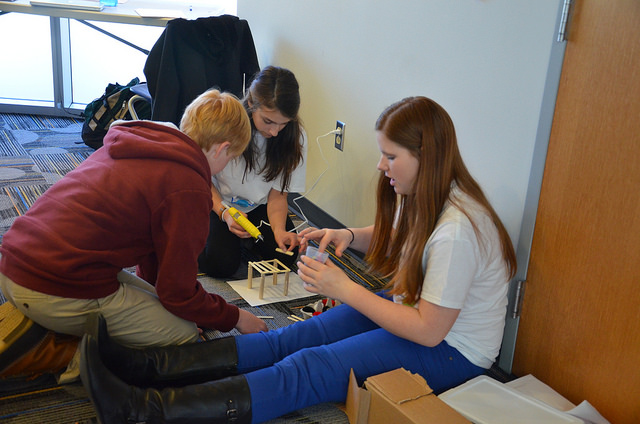 Talk to strangers  We teach kids not to talk to strangers. For some of the students, it was unnerving to go up to complete strangers to ask questions and they soon realized that they had to pick themselves up quickly from rejection. It was invaluable how the students had to learn to grab someone's attention and to try and state their intent quickly, this was something they had to iterate on often. These grade 8's at Collegiate very quickly had to learn how to talk to strangers and we had a critical conversation about when it is appropriate to observe strangers and a few expressed concerns of unease when it came to people watching and making notes about it. The major difference between your personal comfort level as a researcher/designer and how to gain information needed to inform your work to be human-centered.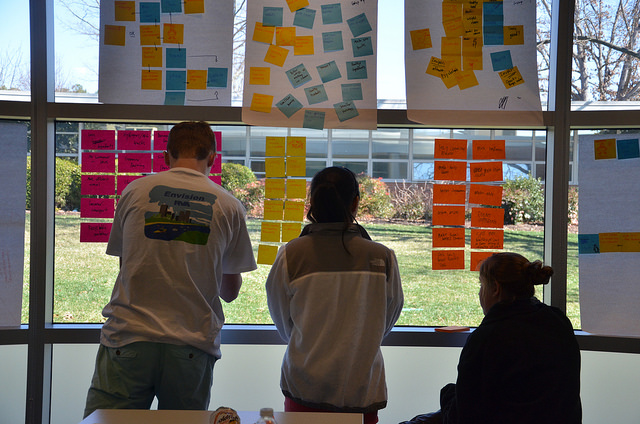 Collaboration takes time We have expectations of what collaboration should look like. For students to work together is a key to learning how to negotiate, how to balance power and where the boundaries of roles are that influence and distract from the team. As Heidi Siwak once said "Collaboration is not group work". It is not as easy as putting students in groups and expecting them to perform a specific way. On day 2, the teachers at Collegiate and I had a conversation that I think captures this well. It was pointed out to me that one of the groups "was behind". This prompted an interesting conversation about what it meant to be in this emergent process and how this group was performing in comparison to the other groups. Ultimately, it was the tension of what collaboration should look like and what it actually did. The group stayed together and worked their way through the week at their own pace.
Ask for what you need It takes vulnerability to verbalize how we work. During design thinking 101, I watched as groups pushed through the process and for some it was physically a struggle. I could see the frustration in some of the students faces as they worked through uncertainty and ambiguity. Following DT 101, we had a conversation about Task, Team, Self to reflect and in particular one student spoke up about her personal frustrations of having to move forward before she felt like a task was complete. It was inspiring to hear her share this and together we were able to work out a way for her to ask her team for time to pause before moving on. Later in the day, she told me that it helped her greatly to let her team know what she needed and for the team to be able to reciprocate.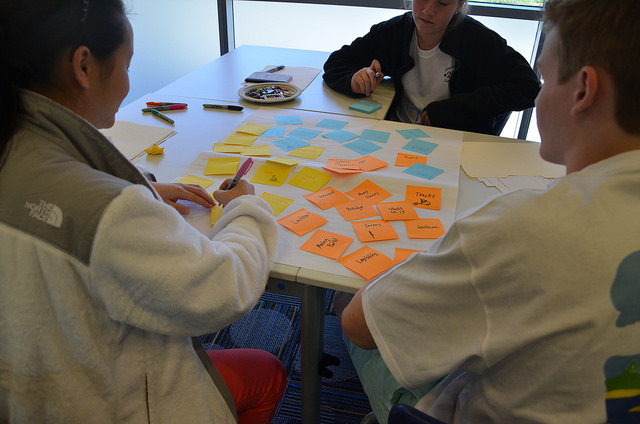 Our time was brief together, it was a ton of fun and I know the students got a lot out of it. It was exciting to be a part of their engagement with the James River. The river that runs through some of their backyards and is the root of a nature, physical activities and economy. Through design thinking 101, an introduction to ethnography through observations and interviews, and a deep dive into defining the problem and developing solid HMW questions; I was inspired to observe some of their lessons learned through engaging in the design thinking process.