Last year, we hosted a Tune Up Workshop with Equal Grounds. Tune Up, is a hands-on design workshop taking ideas to action while practicing how to co-design solutions with users. For Tune Up last year, we had 20 practicing design thinkers and 4 people from Equal Grounds participate in designing 4 possible ways that Equal Grounds could offer services and get their enterprise off the ground. Here is a blog from Co-Founder, Terrence Ho.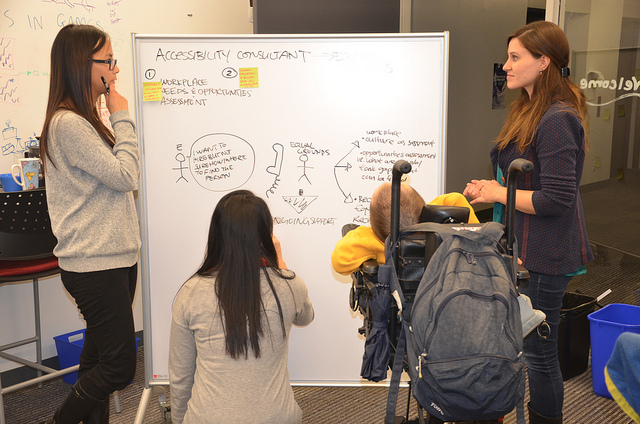 It's been almost a year since we participated in the Exhibit Change Tune Up back in December 2013.
Equal Grounds started in 2013 a few years after my brother Torrance graduated from college and could not find employment. We decided that if employers were not willing to provide opportunities we would create opportunities for him instead. After prototyping different things that he could do from data entry for small businesses to running a petition campaign, we were contacted by a family friend that heard about our project and wanted her son to be involved who also has muscular dystrophy. That's when I realized there are many more individuals that are impacted besides my brother and his friend.
We brought our team to Tune Up because we felt we needed clarity in our direction and whether what we are tackling and our problem definition of "how do we create employment opportunities for people with disabilities" is actually true or a problem that doesn't exist.
There were four key concepts that came out of Tune Up:
Internship Concept – whereby a company brings on an individual with accessible needs into their workplace for a short period of time or on a small project to see of there's a fit.
Accessibility Website – as a source for information on AODA and consulting services.
Accessibility Centre – where individuals with disabilities can work from, with on site attendants to allow persons to work remotely for other companies and have proper care. It was even suggested that we have a remote site in a warmer climate of Florida!
Accessibility Association and Awards – bringing together all organizations working on employment and accessibility and awarding other organizations and companies that have achieved and gone beyond the Accessibility for Ontarians with Disabilities Act (AODA) standards.
What these concepts from the design thinkers that day did for us is validate our concepts that we were testing and have thought about.
Nine months after Tune Up this is where we are, still tackling the opportunity of "how can we create employment opportunities for people with disabilities?" There are three key initiatives we are focused on:
1) Inclusive Consulting: We designed and pitched an accessible consultancy at the Emerging Leaders Network (ELN) Studio and Showcase where we received positive feedback from the panel. Our main focus is to provide AODA audits, training and strategic/metric development. This has spun into its own entity called Employable Accessible People. We are currently building our team of consultants as we gear up for our first client.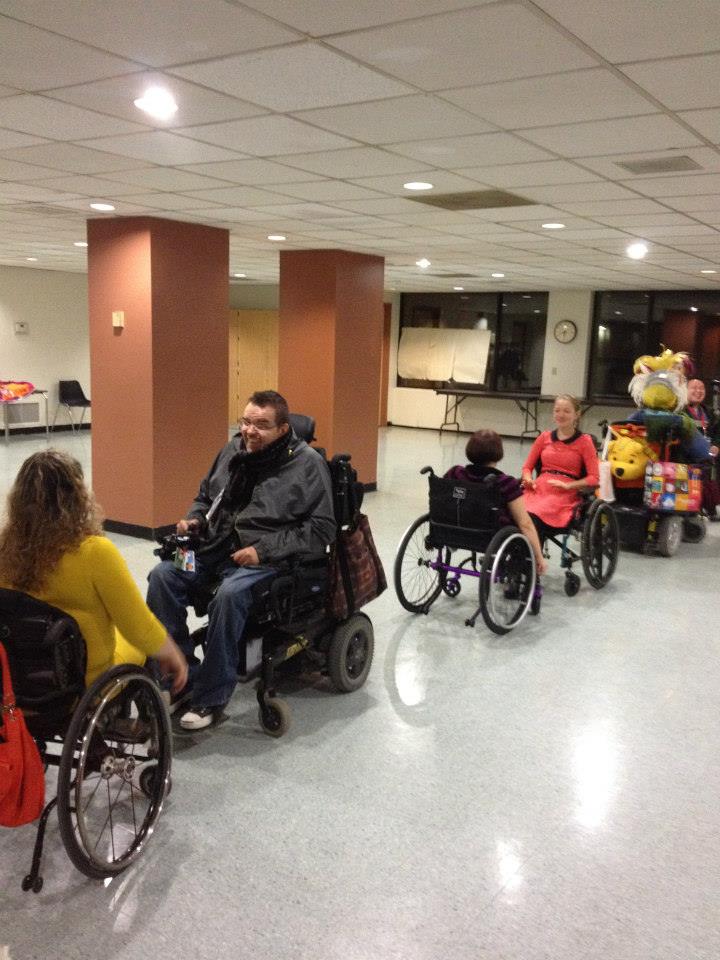 2) Arts and Socialization: We've also been prototyping a wheelchair dance and theatre program for the last seven months. With eight core members we continue to adjust our program to meet our member's needs. We teach everything from line dance and salsa to improv activities. We were recently invited to participate in the opening ceremonies of the ParaPan Am Games in 2015. We are very excited with this opportunity and continue to look for more individuals with mobility needs to join our wheelchair/scooter dance and theatre program.
3) Writing and Awareness: Our third endeavor is our Enables Me network around raising awareness through writing. We have a team of writers sharing their personal experiences and to report on accessibility news locally and abroad on topics from sports, work, travel and technology. You can read the stories at:
Our objective is to become a go to source for accessibility stories and information online. We continue to look for writers that want to share their personal experiences and to report on accessibility news.
As you can tell our work continues to evolve well after Tune Up, we are thankful for the opportunity to have the minds of so many thoughtful and experienced individuals that day.
— Terrence
A HUGE thank you to Terrence for recounting this story for us to share.