It was a cold and rainy evening when we arrived on the York University campus and found our way to the workshop room. The participants were lining up for the dinner before the workshop took place. The NOISE for Change group had been meeting since August to do work together and now in March, it was easy to see that they had clearly forged new relationships and were making an impact on one another. Meeting at York University, the high school students from Emery High School were introduced to the world of University and were embraced by their York University counterparts from Bachelors and Masters of Social Work. The NOISE for Change project is an amazing testimony to bringing together youth leaders and inspiring peer to peer projects. It was inspiring to see the investment everyone had made into the project and to each other.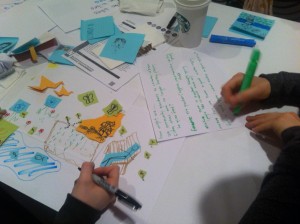 NOISE for Change has been making some big bangs in the Jane-Finch neighbourhood from their pilot project out of York University. "NOISE for Change, an opportunity for innovative student engagement, brought together 20 grade nines, 20 grade twelves, 20 Bachelors of Social Work students, 20 Masters of Social Work students and 20 York Social Work Alumni for such a unique program."
In Community Action Pods, the groups worked together on projects for the community, many of them focused on bringing positive attention to the neighbourhood.
We were delighted to come and offer a Design Thinking 101 workshop for the Pods who are in the thick of their project work. As per usual, we opened up the workshop with the Oreo Cookie workshop to make an analogy to how we are all design thinkers. This activity always breaks up any apprehension that the participants have going into a design thinking workshop and put a little bit of sugar in their systems for the next bit of work.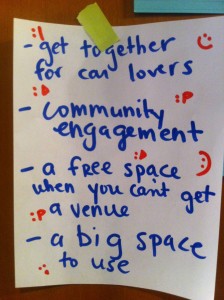 For the design thinking workshop, in our short time together, the groups explored a few possible design challenges that have popped up as projects brought forward by the community during past design jams at Green Change. Groups designed for community gardens and parking lot parties, no one wanted to take on the Tool Library, but we can come back to that another time.
The groups worked quickly at coming up with stakeholders and ideas for how they could make some of the projects a reality. As the groups are working on their own positive change projects in the neighbourhood, it was great to see them take what they have learned so far and apply that to these new challenges.
We are looking forward to seeing what comes from NOISE for Change next year as the take on new projects and youth leaders, it is inspiring to see their great work.