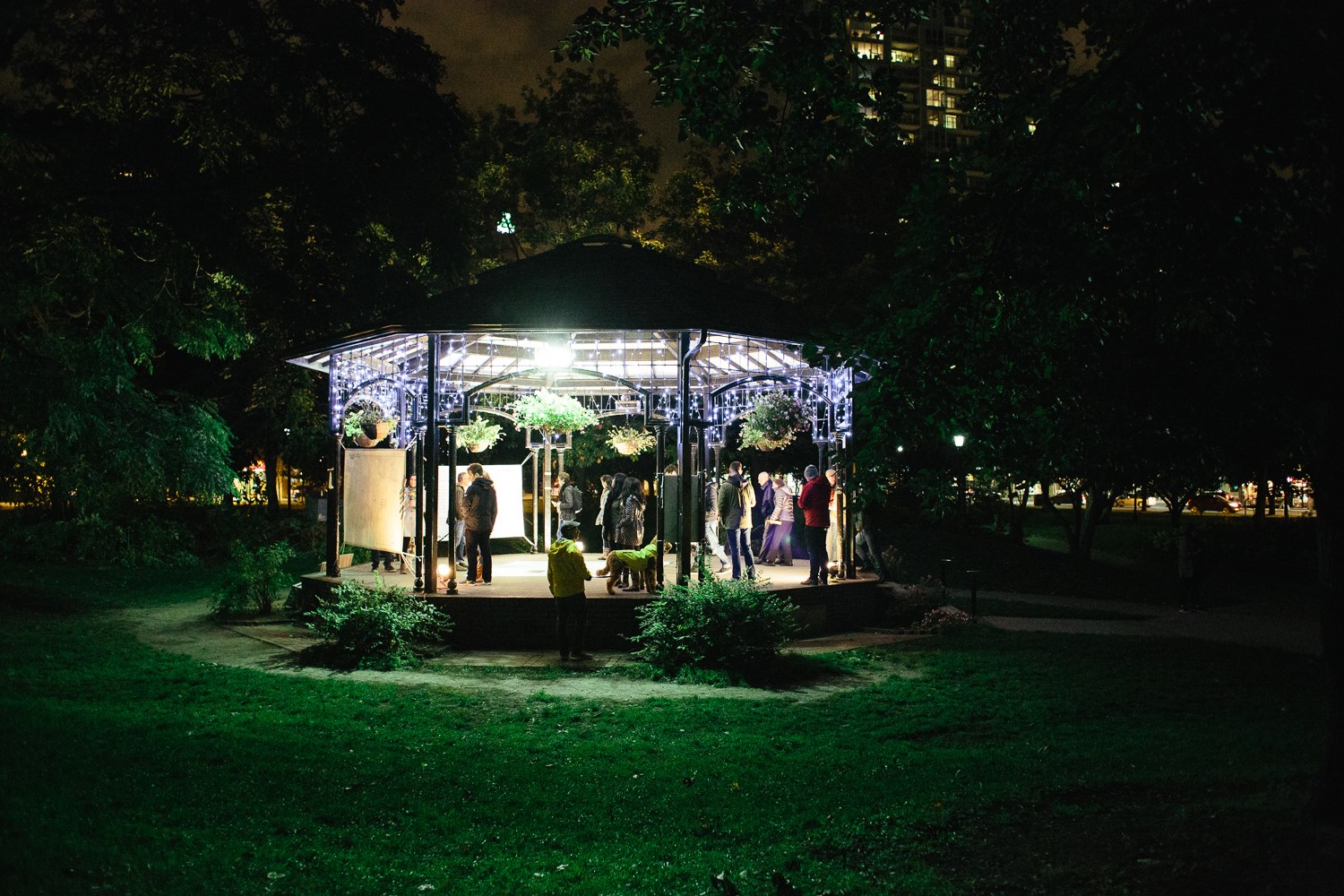 Yet another Scotiabank Nuit Blanche has come and gone. And we weren't about to miss out on the fun. This year as a part of the Department of Imaginary Affairs we had another successful installation in St. James Park. It brings us great pride to be able to be one of very few installations on the east side of Toronto. The vibrance here is unparalleled and the warmth of the community can be felt even in the coldest hours of the night.
Before Scotiabank Nuit Blanche night arrived, we could already feel the anticipation building. We were surprisingly delighted to find The East Side story had made it to the City News "Top 5 Installations to check out" – noting that,
"The Department of Imaginary Affairs spent the past few months going to local festivals, gathering stories that will make up the content of giant books displayed outdoors at St. James Park."
It was nice to see all our hard work was being noticed.
Don't worry if you missed out on seeing our larger than life storybooks for yourself, we got some great coverage and pictures to capture it all. We had worked tirelessly to collect stories and it all culminated in a 144 stories on pages 6 feet by 10 feet. We wanted the experience of sharing stories to be spread into every aspect of the installation including turning the pages.
Thankfully this did not go unnoticed, as documented here,
"Finally, a reader turns the page, needing her friend to help her carry the vinyl sheet over to the other side. East Side Story is meant to be interactive; the reading is supposed to be a communal act."  (Nuit Blanche 2015: The East Side Story, CanCulture)
And last but not least, this lovely anecdote from a visitor on the night of Scotiabank Nuit Blanche really encapsulates why we do this.
"My favourite display was an installation, developed over many months and presented as a "storybook" of the thoughts and ideas of residents of Toronto's East side. Produced by the "Department of Imaginary Affairs" (love the name), this was a unique project about and by Torontonians…It was a real treat and I can only hope that the creators of this installation, Blair Francey and Jennifer Chan, are able to capture the content from the "Storybook" and translate it into a format that can be shared far and wide for more people to enjoy." (The Magic of Toronto's Nuit Blanche, City Living Guide)
Check out the great video and pictures from the night. And don't worry if you missed out on this adventure, there is more to come in 2016!!!!