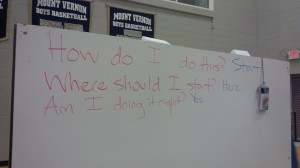 Over 2 days, 100 educators from 10 different States gathered together at Mount Vernon Presbyterian School in Atlanta, Georgia for an intensive design thinking workshop.
The design challenge: How might we improve the first week of school? 
Earlier this year, at EduCon in Philly, I had the opportunity to connect to two amazing educators who are just as enamoured with design thinking as we are. Mary Cantwell is the coordinator for the Centre for Design Thinking at Mount Vernon Presbyterian School and Greg Bamford is the co-founder of Leading is Learning, these two made me feel more than welcome as part of the facilitation team.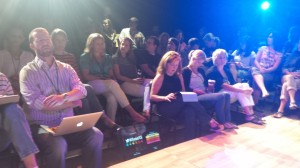 What is Fuse? "Fuse is the circuit that sparks new action. It's the fusion of two people working together to make something new." Together, Mount Vernon Presbyterian School and Leading is Learning created a jam-packed two day adventure to bring educators through the process of design thinking and the task and maintenance of team work. It was a lovely blend of learning the complex process of solving for wicked problems while navigating the complexity of working with people you don't know on wicked problems. It honoured the fact that as learners, we are used to a certain level of comfort and in this case we were purposely putting you in an uncomfortable space.
As part of the facilitation team, I got to learn and share with a team who are practicing and doing everything they can to spread design thinking throughout education and to co-facilitate with Scott Sanchez, Stanford d. school instructor was simply phenomenal. I am thankful for Mount Vernon's open and collaborative approach to //Fuse. It was clear that we were learning together and that we were all facing similar challenges that we didn't have the answers to. I specifically remember our facilitation meeting after the first day and the time we spent going over the participants experience, the iterations we need to make to build their learning experience and our reflections as a team and as individual facilitators.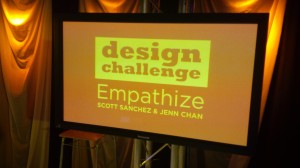 I was honoured to be a co-facilitator of the Empathize phase. At Mount Vernon, they have adapted the design thinking process to work for their whole school. They use D.E.E.P – discover, empathize, experiment, produce. Empathize is the phase where they get to know their user. It is hugely important that participants make the shift of seeing themselves as users towards seeing themselves as designers. This is the part that I find most people struggle with and the fog continues as you move into defining your "Point of View" and coming up with your own "How Might We". Together with figuring out your team, going through the process while trying to connect and relate to your design challenge; this is the combination for a tiring day 1 and I am always grateful when everyone still shows up for day 2.
Being part of //Fuse was seriously so rewarding. To see a school that has embraced design thinking for nearly 5 years, go to Georgia to meet fellow #dtk12 educators and really get to build a lasting bond.