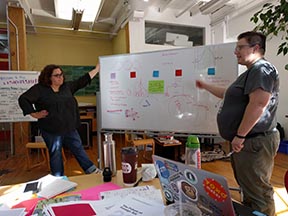 I started writing a reflection the weekend following the first weekend of the retreat to try and capture my thoughts about the weekend. That was nearly 3 months ago now…oops.
I really did need time to let the fog settle in. I started saying this about the design process soon after I started my Masters. I heard it from one of our professors when my team was working on a particularly wicked challenge about the foster care systems and helping children in the system build agency for themselves in an emergency situation. This is an area I had no personal experience in and our limit timeframe made that much more complex.
She said, "it's ok to let the fog settle in."
This has always stuck with me. That's exactly what we do as design thinkers. We take on a ton of information and then we need time to process, to digest, to gather insights to mull ideas around.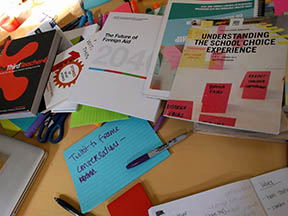 And while I encouraged the participants of the Designership to reflect right away, and 1 did, but the others didn't. I obviously can't fault them since I am in the same boat.
It is a luxury to walk away from the murky fog and to let life settle back in. To pause from the thinking you have started and know it will be there to pick up right where you left off. This only works when you are learning or practicing design thinking for yourself.
It doesn't work when you need to respond immediately to a wicked problem that is changing even as you start working on it. This is a huge tension in doing design thinking.
And now, stepping forward into our next session. I decided that we needed to actually take a step further back and do some foundational learning before we lunge into our work further.
This inaugural cohort of the Designership is meant to be a community of learners. And I am just as much a learner as they are.
Our second Designership weekend is January 28/29 – check back for a reflection. I promise it won't take me 3 months to write one.