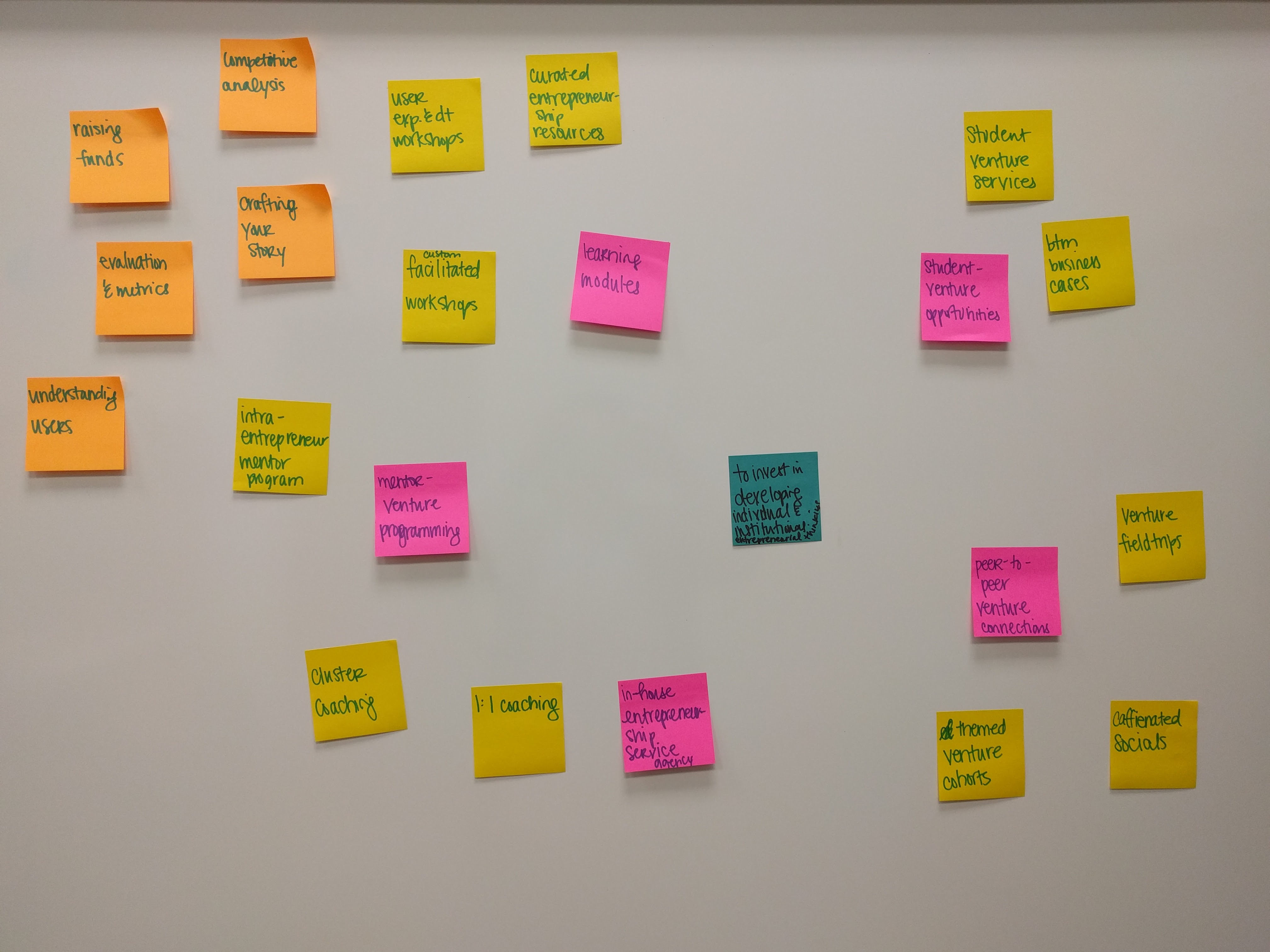 Here's the problem: entrepreneurs need support to think through their business while simultaneously launching their business
Here's the solution: a program that fits the needs of where entrepreneurs are at and is as adaptable as they are
Here's the impact: a community of entrepreneurs that can support each other through the ups and downs of being an entrepreneur
Currently working on re-designing an entrepreneurship program for pre-launch ventures. The program is built around developing entrepreneur mindset and helping the entrepreneur work ON their business while working IN their business. Trying to offer a 30,000 foot view and strategic advice in a choose your own adventure model.
This came after evaluating and recognizing that a curriculum-based program gave the false sense that all ventures (no matter what stage) could benefit from getting content on a week by week basis and that at the end of 12 weeks ventures would be launch-able.
So instead we are prototyping a program:
That is supportive of each entrepreneur with a weekly cluster coaching session where entrepreneurs support one another with feedback and share experience and knowledge about starting their own ventures; 

Offering Open Studio space for entrepreneurs to have a focused time and place to work on their ventures with access to advisors, strategy support, creative energy and basically to not feel isolated;
Testing out a mentorship model experiment to figure out model that works for both mentors and ventures in an adaptable way. One model, dubbed the "holistic health model" where 2-3 mentors work with one venture for a group mentoring approach. The second model is a one-on-one model where ventures and mentors will connect through speed-dating and then carry forward a conversation;
Supplemented by design strategy workshops every two months. The workshop content will be adaptable to the current needs of the participants, but will likely focus on talking to customers, prototyping ideas, and bringing your whole self to work; and
Lastly, participants can get custom facilitated workshops if they have proven a business case for one. This could be for brainstorming with advisors, pivoting their initial target markets or analyzing data to sort through insights. Primarily, these workshops are additional supports to help an entrepreneur get unstuck when they have spent too much time going at it alone.
While prototyping this new program, we are still trying to work on some larger than us social design challenges:
1. How might we recruit more current students and alumni who want to start ventures or support other ventures?
2. How might we build supports and networks for female entrepreneurs?
3. How might we share resources that match the ongoing learning nature of being an entrepreneur?
Please feel free to share any ideas that come to mind on getting started with tackling these larger than us social design challenges, we cannot do this work alone.