Last week we hosted our first ever Tune Up with much success. Working with Equal Grounds, we were able to bring 11 Design Thinking practitioners together with 4 Equal Grounds team members to work collaboratively to unpack, explore and design potential services to deliver.
To help focus the group and maximize our collective work, the central question that was put forward by Equal Grounds was:
How do we create employment inclusion for people with disabilities?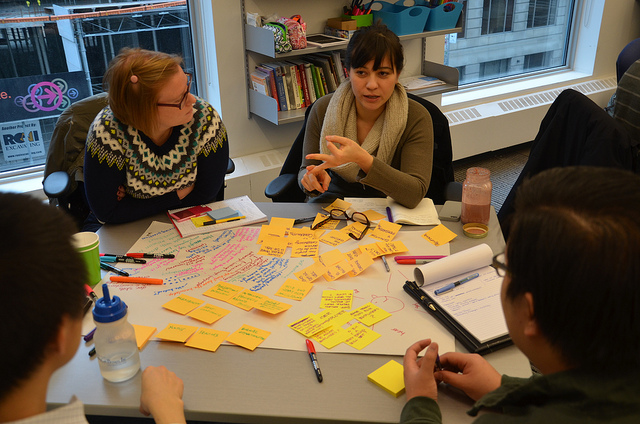 Diving into the conversation, it was quickly obvious the effect of using a real-world problem was having on our designers. Unlike a typical DT4i training workshop where the focus is more on practising tools & processes in a sandbox environment, Tune Up is intentionally set up to challenge your assumptions;  both the stakeholder and designers are collaborating on prototype solutions as well as challenging each others biases in defining the actual problem.
In the morning, we definitely had to take the time for Equal Grounds' team members to connect with designers, creating a safe space that paid recognition to mutual fears of failure, of saying the wrong thing or to individuals not having all the right answers. Without underscoring the importance of empathy in the design-thinking process, moving forward into defining the problem and designing solutions risked moving the focus towards the designers' biases. Tune Up really is a workshop where you get a chance to design with very real consequences.
The empathy phase of the design-thinking process is an important step that in foundational in defining what is the actual problem instead of moving instinctively into defining solutions. Remaining in the problem longer allows you to figure out what you don't know and what information you need to move forward. This may take more time upfront and can feel really messy at times, but by doing so, it will ensure whatever prototype that ends up being implemented is more likely to be relevant to a very important stakeholder: the user.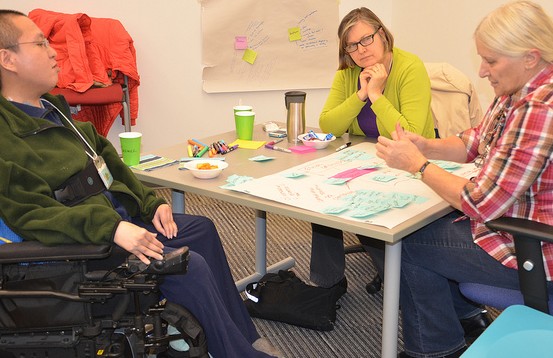 With our first Tune Up under our belt, we are excited for the next one happening in February. We learned a lot from the December 7 workshop, both in how to deliver a great Tune Up as well as the amazing value design thinking brings to real world, wicked problems.
If you want to know how you can get involved in the next Tune Up, stay posted in the new year for when we announce the next Tune Up project. In the meantime, make sure to sign up for our newsletter.
[accordion]
[section title="ABOUT TUNE UP"]Tune Up is hands-on design thinking applied to a real world wicked problem. Anchoring the conversation in reality, the workshop engages both an organization with an identified problem as well as individuals eager to practice and experience the design-thinking process. The ultimate goal for Tune Up is to expose both the organization and the designers to the design thinking process and facilitate collaborative learning.
[/section]
[/accordion]