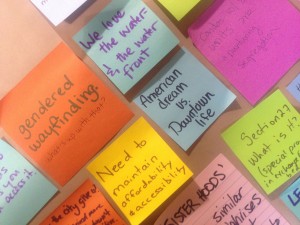 Sometimes the challenges we face in creating a better city can seem very big and overwhelming. Some might even say impossible… So what better place to meet on a Sunday morning with a group of incredible, interesting women, than the Academy of the Impossible. Coming from diverse backgrounds like planning, community engagement,  engineering and entrepreneurship, everyone there had in common the belief that women have an important role to play in city building.
Women in Toronto politics had conceived of this workshop as a way to get women together to brainstorm around ideas and issues to be put forward as a deputation for city council, in advance of the next budget. Facilitated by Exhibit Change, the day was high energy, with inspiring conversations from the get go. The world cafe format started the day off, allowing us to identify which conversations were already in the room.
The first question, where is your heart in Toronto, led to impassioned conversations about home, family, neighbourhoods, which touched on topics like development and opportunity. Following this, the groups dispersed and reformed, to think about the question "what does the city of Toronto give you?" The host at each table facilitated, building on the previous themes. Topics of opportunity, way finding, community and a sense of home expressed the appreciation and conversely some of the frustrations that people experienced in Toronto. Finally, the question "what does the city of Toronto need from its citizens?" sparked conversation on engagement, action and mobilization around some of the challenges the city faces. All the participants were then asked to note down challenges on post its for harvesting the rich conversations.
Delicious lunch gave time for mingling and personal connections, while the. WiToPoli team worked to link and connect the post it's into themes.These themes informed the after lunch session, but not before a fun "idea speed dating session" to get the neurons firing in novel ways. Participants broke out into themed tables and got down to the nitty gritty details of coming up with practical solutions to some of the issues identified, to be presented as a deputation.
The next two hours was a flurry of intense discussion, debate, and proposal making. Note takers kept careful track of the core of the proposals, to be given to the WiToPoli team to create deputations from. At the end of the workshop, everyone offered their reflections on the day. Inspired, connected, and engaged seemed to be shared feelings, with comments in how heartening it was to be among a group of people who don't think "you care too much".
Lastly, the participants wrote their pledge as to how they would Exhibit Change going forward. WiToPoli are working on the deputation, so watch this space!