On September 23rd, we gathered with 30 brilliant minds in a co-hosted workshop with Women in Toronto Politics at the Academy of the Impossible.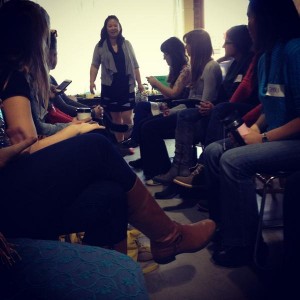 We were primed for a day of  discussion, multiple view points and a lot of work. I had the utmost pleasure of getting to facilitate the day and it was made so much easier by the sheer brilliance of the participants. We hosted a group of women (& a few men) who's backgrounds came from politics, law, non-profit, education, community-based organizations, you name it. Very interestingly, the majority of the participants were not born and raised in Toronto, with only 6, the others landed in Toronto at different times varying from the last few months to 10+ years ago.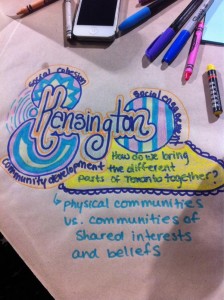 This really shone a light on the fact that citizen engagement is not necessarily about your geographic roots. The diversity didn't stop there either, we had folks coming from all parts of the city which was highlighted in discussions about how Toronto is a city made up of smaller "cities" with overlapping issues.
From a process side, I am always delighted when people really give in and let go of their stranger shields early. We were asking people big questions early on and after a bit of hesitation the conversations never stopped. In fact, I always feel a little bad when I have to be the one to move to the next question or agenda item. I am sorry, I promise I do it for a reason!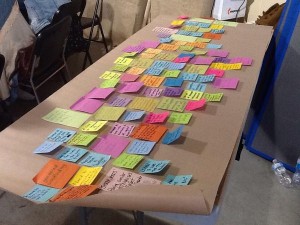 It was nice to be reminded that our style of facilitation is unique and lent itself well to this conversation. We were able to map out the themes in the room over our morning discussions and then emerge to do the work in the afternoon. The energy and momentum from the day are indescribable, what comes next, only time will tell. WiTOpoli fueled the fire, now we have fanned it a bit more, so the next piece is to set this place a blaze 🙂
Inspire Yourself!
Jenn
p.s. THANKS SOOO much to my beautiful team – Linn, Alex and Terrence, you are rockstars!